Get excited for an amazing vaping adventure with Jeeter Juice Live Resin! This cool disposable straw delivers the perfect hit every time you use it, made from just one awesome ingredient – cannabis. Packed with super pure and flavorful cannabinoids and terpene concentrate, it's a must-try. Ready to take your first draw? Plus, we've got the scoop on the latest and greatest Jeeter Juice flavors – get ready to explore!
 Kush Mintz 
Don't expect Kush Mint to match its refreshing flavor – it's a surprise! While many anticipate uplifting and motivating effects, most users find this strain to be deeply relaxing, both mentally and physically. Balanced hybrid strains are popular among medical users for their blend of cerebral and physical effects. Be the first to experience this delightful live resin.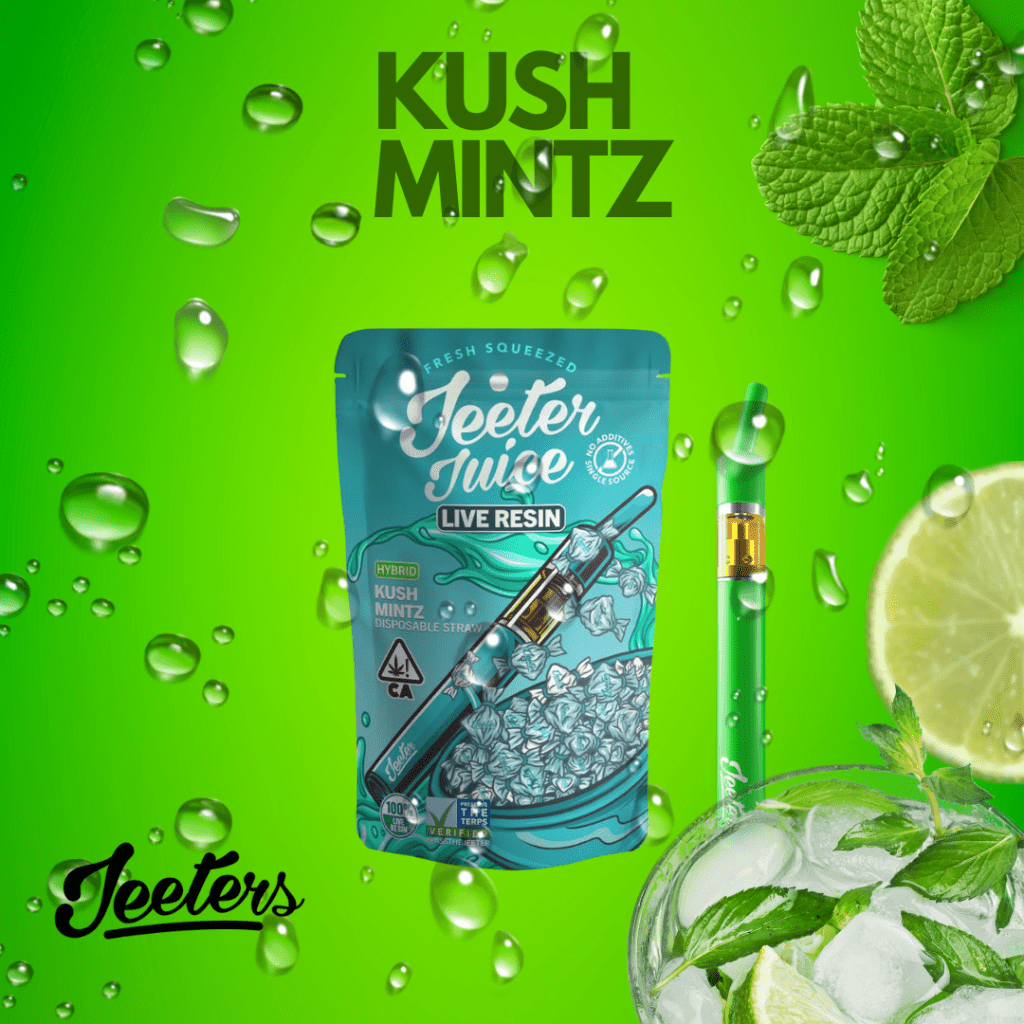 Jack Herer
Paying tribute to the legendary cannabis activist and author of the iconic 1985 book "The Emperor Wears No Clothes," Jack Herer stands tall among modern cannabis strains, earning a reputation that's both widespread and esteemed. Its flavor is a symphony of citrus, pine, wood, and spice.
Crafted by the Dutch seed bank Sensi Seeds, this masterpiece boasts an impressive collection of 9 first-place High Times Cannabis Cup awards. It's no wonder this strain is a sought-after cornerstone for crafting exciting new hybrid varieties.
Private Reserve
Private Reserve offers a delightful taste profile, merging sweet and subtle sour notes. This unique cannabis variety is known for its gradual onset, gradually enveloping your entire system with a potent body buzz. Prepare for feelings of euphoria, relaxation, and a boost of energy when indulging in Private Reserve.
Weeding Cake
Discover the allure of Wedding Cake Jeeter Juice Cartridges, a captivating fusion resulting from Triangle Kush and Animal Mints. This exquisite indica-hybrid strain brings forth a symphony of relaxation and euphoria, enveloping body and mind in its tranquil effects. Prepare for a flavor expedition that blends sweetness and subtle sourness, heightened by Jeeter infusion's earthy pepper undertones. Noteworthy for its therapeutic potential, Wedding Cake serves as a reliable companion against pain, insomnia, and appetite loss. Yet, its elevated THC levels advise a cautious approach, particularly for cannabis novices. Achieving Leafly Strain of the Year in 2019, Wedding Cake's rise to fame is undeniable. Also recognized as Pink Cookies, this creamy, indica-infused delight treats your senses to a fragrant journey and an unforgettable fruity flavor.
Mac N Cookies
Mac N Cookies emerges as a harmoniously balanced hybrid, brought to life through the fusion of two classic strains – Miracle Alien Cookies (MAC) and Alien Cheese. Renowned for its unparalleled and delectable taste, Mac'N Cookies is a dream come true for hybrid enthusiasts seeking robust potency. Delighting the senses with its sweet and creamy cheesiness, intertwined with hints of nutty cookies and a touch of peppery earth, this bud is a flavor adventure like no other. Its scent exudes intensity, carrying a pungent gassy aroma layered with spicy herbs and velvety cheese undertones. The effects of this strain encompass arousal, relaxation, appetite stimulation, euphoria, and upliftment. Its potential therapeutic benefits span pain relief, combatting nausea, boosting appetite, alleviating stress, reducing fatigue, and uplifting mood from the clutches of depression.